Home > Research, Data & Reports > College Readiness & Participation Data > Advanced Placement
Advanced Placement
Advanced placement participation of Minnesota high school students
Advanced Placement (AP) courses are offered in 236 (out of 432) Minnesota high schools to prepare students to take exams offered by the College Board. This program gives students the opportunity to take college-level courses while in high school and is one of several college prep options available to Minnesota high school students.
Of Minnesota test takers in 2013-2014:
40,877 students took an AP exam, increasing 5.4 percent from last year
67,830 subject exams were taken in 34 subject-specific AP exams, increasing 4.8 percent from last year
44,460 exams had grades of 3 to 5, increasing 5.8 percent from last year
6,427 students of color (15 percent of total) took at least one AP exam, increasing 11 percent from last year
Of Minnesota public high school 11th and 12th graders in 2013-2014:
18.1 percent took at least one AP exam, increasing 8.5 percent from 2004; 21.9 was national average
12.1 percent scored 3 or higher, ranking Minnesota 19th; 13.2 was national average
Minnesota Students on Average Outscored the Nation on Advanced Placement Exams, 2013-2014 Academic Year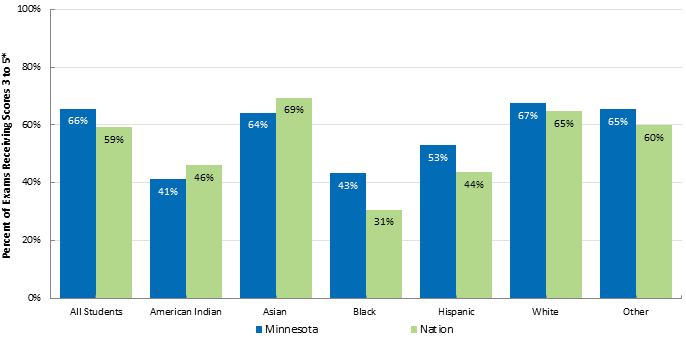 * An AP score of at least 3, on a scale of 1 to 5, is an indicator of ability to perform successful work at most colleges.
Source: College Board
74 Percent of Exams were in 10 Subjects
Rank
Subject
Number
Percent of Total
Percent Score 3 to 5
1
History: United States
8,516
12.6%
56%
2
English Language & Composition
7,121
10.5%
66%
3
Mathematics: Calculus AB
6,074
9.0%
63%
4
English Literature & Composition
5,625
8.3%
64%
5
Human Geography
4,628
6.8%
64%
6
Statistics
4,534
6.7%
67%
7
Psychology
4,112
6.1%
72%
8
History: World
3,552
5.2%
65%
9
Biology
3,335
4.9%
69%
10
Government & Politics: United States
2,904
4.3%
67%
All Other Subjects
17,429
25.7%
AP Exams Taken in Mathematics and Science Grows
The number of biology, chemistry, computer science, environmental science, calculus, physics and statistics exams accounted for 33 percent of all subject-specific AP exams. The number of math and science exams (22,362) increased 5 percent from the previous year, and 51 percent from five years ago when 14,769 exams were taken.
About the AP
The College Board administers the Advanced Placement (AP) exam. Most students study for the AP exam by taking year-long AP specific courses offered through their high school. AP exams can also be taken by any student who has taken strong courses or studied in-depth on their own. AP coursework is available online through a variety of private education companies. The exams are optional. More students may take AP courses in high school then sit for the exam.
An AP grade of at least 3, on a scale of 1 to 5, is an indicator of an ability to do successful work at most colleges. Some colleges will grant new entering freshmen college credit if they obtain certain grades on their AP exams. Policies on granting college credit vary by college.
Related Reports
More Information
Related Links