Home > Paying for College > Financial Aid You Must Repay (Student Loans) > SELF Loans
SELF Loans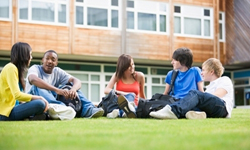 The SELF Loan is a long-term, low-interest educational loan primarily for Minnesota students who need assistance paying for education beyond high school. The SELF program has provided over $2.0 billion in loans to students since 1984 and is administered by the Minnesota Office of Higher Education, a state agency.
Who is eligible?
Eligible students are Minnesota residents attending eligible postsecondary institutions in-state or out-of-state, and nonresidents attending eligible postsecondary institutions within Minnesota. Students must be attending a SELF eligible school at least half-time and making satisfactory progress. A SELF eligible school is one that has a participation contract with the Office of Higher Education.
View a list of schools participating in the SELF Program.
Because the SELF program is not subsidized by the federal or state government, a credit-worthy co-signer is needed to insure continuous repayment on the loan. By requiring co-signers and interest to be paid while the borrower is in school, costs are kept to a minimum allowing for lower interest rates for students.
There is no minimum income threshold or requirement to demonstrate financial need. There are no application, origination, guarantee or other processing fees deducted from the loan.

How much can I borrow?
Students enrolled in a bachelor's degree, postbaccalaureate or graduate program are eligible for up to $10,000 per year with a cumulative maximum of $50,000 for undergraduate loans and $70,000 for undergraduate and graduate loans. Students in other programs are eligible for up to $7,500 per year with a cumulative maximum of $37,500. The minimum loan amount is $500.
The actual amount you are allowed to borrow is determined by the college based on the cost of attendance minus other financial aid. Cumulative SELF Loan debt is considered. Every applicant must have the SELF application certified by the school's financial aid administrator.
Frequently Asked Questions
Related Links