Home > Research, Data & Reports > College Readiness & Participation Data > ACT & SAT Test Scores > SAT/PSAT Scores
SAT/PSAT Scores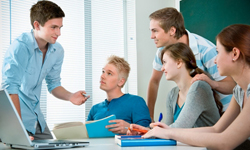 SAT and PSAT scores of Minnesota high school test takers
In Minnesota, less than 10 percent of college-bound seniors take the SAT. Nationally, about half of college-bound seniors take the SAT and about half take the ACT. The ACT test is the most commonly taken test in Minnesota.
Typical SAT test takers in Minnesota are students considering application to selective out-of-state colleges and national scholarship programs.
Minnesota SAT test takers:
decreased from 4,053 in 2011-2012 to 3,749 (1,422 seniors, 2,275 juniors, 43 sophomores and 9 freshmen) in 2012-2013
had a mean high school grade point average of 3.72
80 percent ranked in the top 20 percent of their high school
84 percent of test takers had at least one parent who had a bachelor's degree or higher
Preliminary SAT (PSAT) is taken by students in their sophomore or junior year of high school. In Minnesota, 5,027 sophomores and 20,068 juniors took the PSAT during 2012-2013.
About the SAT and PSAT
The SAT test helps colleges determine how well students are prepared for college. Colleges use the SAT scores for student admissions, advising, and placement. Some colleges require incoming freshmen to submit SAT scores rather than ACT, while some accept either test. The SAT includes a critical reading, math, and writing section. Each section is scored on a scale of 200-800, with an average score of 500 in each section. The SAT is administered by the College Board.
The PSAT is usually taken by students in their sophomore and junior years of high school. The test contains actual SAT questions, but is designed to be slightly easier than the SAT. It helps students prepare for the SAT and students can use the results to compare their college readiness early in high school with other students. The test is also used to enter competition for the National Merit Scholarship Corporation. The test is co-sponsored by the College Board and the National Merit Scholarship Corporation.
More Information
Related Links