Home > Outreach > Competitive Grant Programs > Federal College Access Challenge Grant
Federal College Access Challenge Grant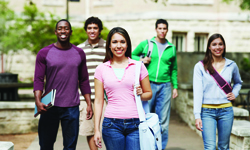 With funding from the federal College Access Challenge Grant Program, the Minnesota Office of Higher Education supports provision of services to increase the number of low-income and underrepresented students who enter and remain in postsecondary education. The formula grant program provided approximately $1,500,000 each year for project activities during federal fiscal years 2013 and 2014.
This funding allows for focused State CACG program activities in the following areas:
Enhancing the college planning and advising capacity in middle and high schools by school counselors so that more students receive clear and consistent counseling regarding college planning and career preparation. This includes:

Funding continued training and licensure at selected schools of Naviance, a web-based counseling software that supports management of academic and postsecondary planning and advising.

Providing professional development for school counselors to increase their understanding of comprehensive counseling programs to support increased student ability to prepare for college:

The Minnesota Association for College Admissions Counseling facilitated user groups for current Naviance users

The Minnesota Department of Education provision of data retreats to help school counselors use ACT's EPAS data effectively

Increasing the number of low-income students and families who have a working knowledge of postsecondary education opportunities, planning for postsecondary education, and financial aid by:

Supporting and coordinating outreach activities for delivering workshops on college preparation, access, financial literacy, and financial aid to target communities, including the Latino and African American communities.

Increasing the number of low-income third- through 11th-grade students who have the opportunity to participate in academic enrichment activities to prepare for college admission and success by:

Supporting attendance at summer academic enrichment programs for third- through 11th-grade students from low-income families.

Funding financial literacy projects to provide low-income junior high and senior high school students with knowledge and skills to make sound financial aid and other personal finance decisions, particularly in relation to obtaining access to, persisting in, and completing postsecondary education.
Since 2008, Governor Mark Dayton has designated the Minnesota Office of Higher Education as the agency to apply for CACG funds on behalf of the State program. Continuity of services over the last five years has enhanced college planning and advising capacity for school counselors and strengthened student engagement in academic programs and postsecondary planning.
More Information