Home > Research, Data & Reports > Minnesota P-20 Statewide Longitudinal Education Data System
Minnesota P-20 Statewide Longitudinal Education Data System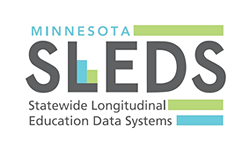 Minnesota developed the Minnesota Statewide Longitudinal Education Data System (SLEDS) matching student data from pre-kindergarten through completion of postsecondary education and into the workforce. Bridging existing data with other incoming data a range of education programmatic and delivery questions can be answered to gauge the effectiveness of current programs and design targeted improvement strategies to help students.
SLEDS brings together data from education and workforce to
Identify the most viable pathways for individuals in achieving successful outcomes in education and work;
Inform decisions to support and improve education and workforce policy and practice, and
Assist in creating a more seamless education and workforce system for all Minnesotans.
The Minnesota P-20 Education Partnership governs the SLEDS system. The project is managed jointly by the Minnesota Office of Higher Education (OHE), Minnesota Departments of Education (MDE), and Employment and Economic Development (DEED).
Minnesota Research Using SLEDS Data:
About SLEDS
What is SLEDS? In order to answer policy questions and gauge effectiveness of improvement strategies, SLEDS will bridge existing data with incoming data. A four P's framework of Pathways, Progress, Predictors and Performance will help stakeholders assess and evaluate data across systems to answer critical and long-ranging questions. This will build a comprehensive body of information to inform future decision-making.
The Four P's:
Pathways: The movement of individual students between K-12/Higher Education/Workforce
Who enrolls in college and when?
How many students who drop-out re-enter at a later time?
Does education lead to higher wages?
Progress: The benchmarks or transition points students meet —or fail to meet.
How many high school graduates choose college, how many choose work?
Does full-time college enrollment matter to degree completion?
What industries employ college grads and at what wages?
Predictors: The characteristics, patterns, or commonalities that help explain which students succeed and which do not.
Student demographics
Immediate vs. delayed entry into postsecondary education
Level of educational credentialing
Performance: How well are education and workforce aligned for individual success?
Where are Minnesota students and workers succeeding?
Where can we improve?
Where can we focus additional strategies and resources?
Contact:
Meredith Fergus, Office of Higher Education, 651-259-3963
More Information
Related Pages
Related Links