Home > Preparing for College > October is College Knowledge Month > College Knowledge Month for Site Coordinators / Schools > Site Coordinator Training
Site Coordinator Training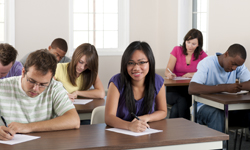 There are several options for training this year. Due to feedback from previous site coordinators, we have added a spring training date. Sites may register for both Spring and Fall sessions, if interested.
Spring Training
Tuesday, May 19, 9-11AM
Office of Higher Education, Saint Paul
Get a head-start on your CKM planning and find out what is new this year! This training is for new and returning site coordinators - as well as sites that have not yet registered, but would like to learn more about participating in College Knowledge Month. This webinar will be recorded and posted on the site coordinator page of the CKM website.
Fall Training
Friday, September 11 OR Monday, September 14, 9:30-11:30AM
(Registration will open soon)
Minnesota Department of Education, Roseville
This training will be offered twice - choose one. This session is for new and returning site coordinators and will include resource sharing among sites. Information about fee waivers and participating colleges will be shared.
Recorded Training Sessions
Recorded Webinar, part one (66 minutes)

Overview of CKM background, goals, expectations, and planning ideas
Panel of Experienced Site Coordinators + Resources (13:13)

Recorded Webinar, part two (46 minutes)

Site Coordinator Support
Publications and Presentations available from MN Office of Higher Education (4:47)
MCIS College Application Tracker Demo (17:04)