Home > Outreach > Grant Programs For Educators > Improving Teacher Quality State Grants
Improving Teacher Quality State Grants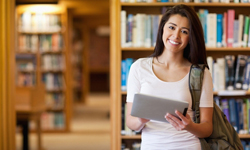 For the 2013-2014 grant period, the Minnesota Office of Higher Education has received $906,015 in federal funds to support continuation awards for 17 inservice programs for K-12 educators that improve the effectiveness of classroom instruction and the distribution of highly qualified teachers. Continuation grants were awarded for 16 projects, and under a new competition, one first-time award was made specifically to address the student-achievement gap in mathematics.
These grants were awarded to partnerships comprised of, at a minimum, an accredited Minnesota private or public higher education institution and the division of the institution that prepares teachers, a school of arts and sciences within the higher education institution, and a high need Local Education Agency (school district).
See descriptions of the 17 projects funded for the current grant period.
If you have questions on the Improving Teacher Quality Program, contact me by email at nancy.walters@state.mn.us or (651) 259-3907.