Home > Research, Data & Reports > Student Enrollment Data > Student Demographics > Undergraduate Transfer Patterns
Undergraduate Transfer Patterns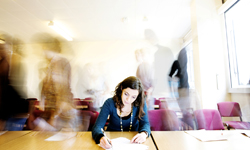 Enrollment Statistics at a Glance - Undergraduate Transfers
In fall 2011, 33,417 undergraduates were admitted as transfer students. These students represented 11 percent of all Minnesota undergraduates. In addition, another 3,294 undergraduates were admitted to institutions having previously attended another postsecondary institution but did not or could not transfer credits. With recent improvements in the transfer process within Minnesota public institutions and improved access to online courses, transferring credits has become commonplace.
Transfer Activity Increasing
The number of undergraduates admitted as transfer students in Minnesota has increased from 17,887 in 2001 to 33,417 in 2011. The rate of growth in transfer students was about double the overall rate of growth in enrollment for the same period.
It is normally assumed that undergraduates who transfer do so from a two-year college to a four-year college or university, but this is not the case. Half of the transfer activity involves students transferring into a public two-year community and technical college from either a four-year institution or another two-year institution. Students tend to swirl around institutions to find the right academic or program fit.
Undergraduates Admitted as Transfer Students, Fall 2011
Transferred From

Transferred To

Community and Technical College
State University
University of Minnesota
Private College
Private Career School
Private Career Online School*
Total
Community & Technical College
5,254
3,643
881
348
665
37
10,828
State University
1,699
435
159
68
196
8
2,565
University of Minnesota
695
271
61
59
70
1,156
Private College
526
275
162
68
52
6
1,089
Private Career School
276
101
7
17
257
18
676
Unspecified Minnesota institution
218
36
5
5
13
6
283
Out of State
2,938
1,566
768
394
380
1,866
7,912
Institution Unknown
4,691
46
1,219
2,047
905
8,908
Total
16,297
6,373
3,262
3,006
2,538
1,941
33,417
*Currently this category includes Capella University and Walden University. These institutions have corporate offices in Minnesota. Their nation-wide enrollment is reported. Most of their students are graduate students and students enrolled from out of state.
Source: Minnesota Office of Higher Education
Most Transfer Early
Most transfers occur early in students' College careers. Seventy-three percent of students who enrolled as transfer students were first- or second-year students. Only seven percent of transfer students were classified as seniors, or fourth-year students, when they transferred.
Undergraduate Academic Level at Time of Transfer, Fall 2011
Freshman
Sophomore
Junior
Senior
Unclassified
Undergraduate
Total
14,104
10,448
4,750
2,326
1,789
33,417
Transfer-out rates at individual institutions who report this data can be found at College Navigator. Data are reported with the institution graduation rates to the National Center for Education Statistics for the IPEDS Graduation Rate Survey.
Related Pages
Related Links