Home
>
Paying for College
>
New Video Demystifies Paying for College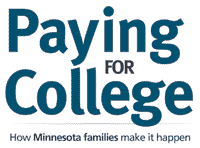 The Paying for College program and videos are packed with concrete advice from local experts -- they help demystify how Minnesota families can finance a four-year college education. Topics include:
Higher education is a worthwhile investment.
Don't let "sticker prices" stop you from considering your options.
Choices made before and during college impact expenses.
There are a variety of ways to cover cost of college.
Start saving what you can.
Manage your borrowing.
The importance of applying for financial aid and steps to follow.
A co-production of TPT's Minnesota Productions & Partnerships, Paying for College is co-sponsored by the Minnesota Office of Higher Education and the Minnesota Private College Fund.
When released in September, Paying for College will include a core 30-minute program that will air on Minnesota public television stations plus several shorter videos: one addressing the needs of "first-generation" families, one on financing a private nonprofit higher education and three prepared in Hmong, Somali and Spanish. All components will be shared online and be available on a DVD.
View the full program:
Paying for College: First in the Family - How families with students who will be the first in their family to attend college make it happen
Paying for College in Spanish - How Minnesota Latino families make it happen
Paying for College in Hmong - How Minnesota Hmong families make it happen
Paying for College in Somali - How Minnesota Somali families make it happen
Paying for Private College - How Minnesota families with students in private non-profit colleges make it happen
The core program will air on Minnesota public television stations statewide, through their Minnesota Channel offerings:
Sunday, February 9, 2014 at 6:30 PM
Sunday, February 16, 2014 at 12:30 AM
Sunday, February 16, 2014 at 6:30 AM
Sunday, February 16, 2014 at 12:30 PM
Request a DVD
Related Resources