Home > Research, Data & Reports > Financial Aid Data & Trends > Loans, Debt & Net Price > Net Price
Net Price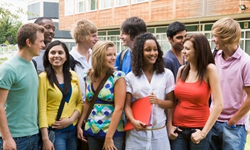 Net price is the average yearly price actually charged to undergraduates after subtracting any student financial aid they may receive. Net price moves beyond an institution's published "sticker price" and provides students and families with an idea of how much it might really cost them to attend an institution.
Net price varies by student family income and type of institution attended.
Grants and Scholarships Reduced Prices Paid By First-Time, Full-Time Undergraduates Attending Minnesota Institutions, 2011-12
Net Price: Tuition & Fees plus a standard living allowance ($12,100) minus federal, state and institutional grants. For purposes of this survey includes only undergraduates receiving Title IV financial aid.
Data for public institutions represents the weighted average of in-district and in-state charges.
Source: U.S. Department of Education, IPEDS Student Financial Aid Survey
Postsecondary institutions in Minnesota and across the nation who are eligible to participate in a federal financial aid program are required to have a net price calculator on their institution's website.
To find the college's net price calculator go to the Net Price Calculator Center.