Home > Research, Data & Reports > Financial Aid Data & Trends > Loans, Debt & Net Price > Federal Loan Default Rates
Federal Loan Default Rates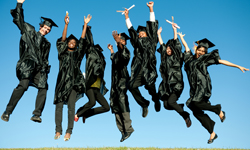 In Fiscal Year 2013, Minnesota undergraduates received $1.5 billion from federal student loan programs. Search Financial Aid Awarded survey data to find amounts and types of federal loans and all other types of financial aid received by undergraduates attending Minnesota postsecondary institutions.
Trends in Education Debt
The U.S. Department of Education computes default rates for students with federally guaranteed loans. The Two-Year Cohort Default rate for Fiscal Year 2011 represents the number of borrowers who were scheduled to enter repayment and defaulted in 2011 or 2012.
The Minnesota Office of Higher Education monitors debt trends and evaluates state financial aid policies.
Enrollment and Two-Year Default Rates by Sector, 2011-2012
Source: U.S. Department of Education
Minnesota had a two-year default rate of 8.6 percent in 2011, compared to the national default rate of 10 percent.
Minnesota's default rate on student loans is below average:
The national three-year default rate on Federal Stafford loans was 14.7 percent in 2010.
The default rate in Minnesota for the same period was 11 percent.
Student Loan Two- and Three-Year Default Rates
Student Loan Default Rates
Student Loan Cohort Default Rates
Related Reports
Related Pages
Related Links