Home > Fast Facts > Facts About Institutions
Facts About Institutions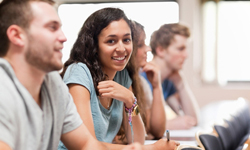 There are nearly 200 public and private institutions. The number fluctuates frequently, as there are new institutions in the for-profit sector that become licensed or do not wish to renew their license throughout the year.
More information on institutional data.
The institution with the largest enrollment is the University of Minnesota-Twin Cities campus. In fall 2012, it had 51,853 students enrolled. Of these, 34,469 were undergraduates, and 17,384 were graduate students.
The University of St. Thomas located in St. Paul (with a branch campus in Minneapolis) has the largest campus-based enrollment for a private institution in Minnesota. It also has the largest number of undergraduate students at a private institution. In fall 2012, 6,336 of the 10,316 students enrolled were undergraduates.
More information on student enrollment.
The Office of Higher Education maintains a list of the location of students records from private schools that have closed, changed their names, relocated, or are otherwise difficult to locate or contact. This list includes private proprietary and not-for-profit schools as well as some out-of-state schools that have been licensed or registered with the state of Minnesota and schools which may have been licensed or regulated by other state agencies but used the term College, University, Academy, or Institute in their name.
More information on locating student records.
The Office of Higher Education provides consumer protection for students and prospective students. Two state laws require private and out-of-state postsecondary education institutions to meet state standards to operate legally in Minnesota.
Private and out-of-state institutions should review the standards and application procedures to determine their legal obligations before advertising or offering postsecondary education in Minnesota.
More information about licensed private career schools.