Degrees Awarded in Minnesota
Degrees and other awards conferred by Minnesota's postsecondary institutions
Minnesota postsecondary institutions conferred over 103,000 academic awards at the undergraduate and graduate level during academic year 2014-2015.
The number of awards conferred increased 30 percent over the past decade.
Bachelor's degrees remain the most common award conferred.
Awards in health science programs are the most common across all degree levels; they comprise 28 percent of all awards.
Students of color earned 20 percent of all undergraduate awards.
Students younger than age 40 years old earned 88 percent of undergraduate awards.
Awards Conferred from Minnesota Postsecondary Institutions 2006 to 2015
Source: U.S. Department of Education, IPEDS Completion Survey
Undergraduate Awards by Age of Recipient, 2015
Graduates younger than 39 years old earn the majority of undergraduate awards.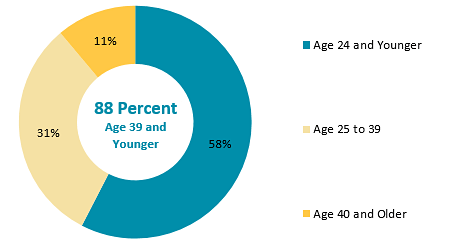 Source: U.S. Department of Education, IPEDS Completion Survey
Search Awards Conferred Data Tables
Search these dashboard tables for awards conferred from Minnesota postsecondary institutions from 2006 to 2015. Search number of graduates by:
Award level
Program of study
Institution conferring awards
Race and gender
Most popular program
Various filters allow you to customize your search by year conferred, institution, CIP code, race and gender as appropriate. These dashboards extract data from the nearly 1 million awards conferred during the past decade.
Definitions of terms used:
Data Source
Degrees and other awards conferred data are gathered and compiled by the National Center for Education Statistics at the U.S. Department of Education. Data are from the annual Integrated Postsecondary Education Data System (IPEDS) Completions Surveys.
Data are from both public and private postsecondary institutions located in Minnesota and include graduates in programs from less than one year in length through the doctorate. For more information see descriptions of program length and program categories.