Home > Fast Facts > Facts About the Income of Graduates
Facts About the Income of Graduates
Attaining a higher level of education has consistently been linked to both lower levels of unemployment and higher levels of earning. According to the U.S. Bureau of Labor Statistics, workers over 25 years old who possessed at least an associate degree in 2012 experienced an unemployment rate lower than the national unemployment rate for workers 25 years of age and over (6.8 percent). Furthermore, those in the same category who had at least a bachelor's degree had a median weekly earning rate higher than the median rate for all Americans 25 and over ($815 per week). These benefits of higher education held true for people in Minnesota as well, with regards to both employment and earnings.
Median Annual Earnings of Minnesota Adults Age 25 and Older (Full-Time Workers), 2012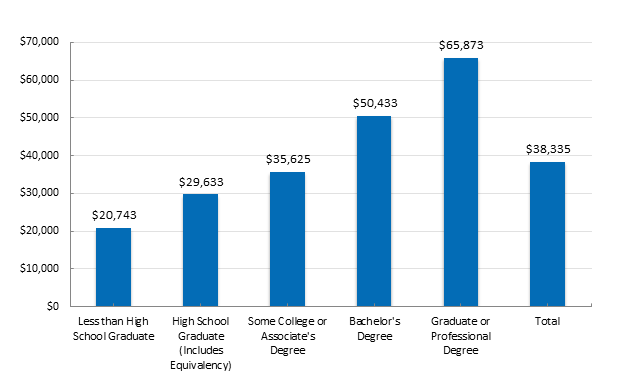 Note: Some College also includes those who completed one- or two-year certificate programs.
Source: U.S. Census Bureau, American Community Survey 2012 5-Year Estimate