Home > Consumer Information > Complaints About Private Colleges and Career Schools
Complaints About Private Colleges and Career Schools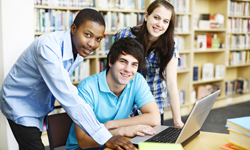 Private colleges and career schools that are licensed or registered with the Office of Higher Education are reviewed to ensure that they are good choices for Minnesota students.
Occasionally, students or employees do not have a good experience. If you believe that a private career school or college has not met its promises, you can file a complaint with the Office of Higher Education. We will investigate complaints that institutions are not in compliance with state standards and, if justified, take action to prevent future problems.
When a Complaint May Be Filed with the Office of Higher Education
The following points can help you decide if a complaint might be appropriate for your situation:
The Office of Higher Education can only act to assure that private institutions comply with the state statutes that we administer. Some problems fall outside our jurisdiction. When another state or federal office could address your problem, we will refer you. Possible human rights violations, for example, are referred to agencies that specialize in these issues.

The Office of Higher Education cannot deal with complaints about the University of Minnesota or Minnesota State Colleges and Universities. Complaints about public institutions should be made to the institution or to the system's central administration.

Before contacting the Office of Higher Education, you should first bring the problem to the institution's attention. Many issues can be handled quickly and informally once the institution is aware of your concern. For more serious problems, you should follow the institution's formal complaint procedures. If you call us before you have pursued all internal options, we will discuss them with you and defer taking your complaint until you are sure that the institution will not respond adequately.

Keep records that provide evidence of the problem and your efforts to solve it through internal processes. Documentation will help you make your case with the institution and, if an Office of Higher Education complaint becomes necessary, help us learn about the issue and investigate.
How to File a Complaint
If, after exhausting internal grievance procedures, the school or college has not responded to your satisfaction, you can file a compliant with:
Registration & Licensing
Office of Higher Education
1450 Energy Park Drive, Suite 350
St. Paul, MN 55108
651-259-3975 or 1-800-657-3866
info.ohe@state.mn.us
Consider contacting us first to discuss your complaint. We can explain the complaint procedures and let you know whether the Office of Higher Education, or another agency, can address your problem.

To initiate action by the Office of Higher Education, make a written complaint. There is a specific form to use. We will provide the form upon request. Include as much detail as possible, including the exact nature of the complaint, dates of incidents, names of people at the institution that have been involved in trying to resolve the complaint internally, and copies of any written documentation.

We prefer that you give your name, address, telephone number, and email address on the written complaint. Our ability to take action is restricted if you file an anonymous complaint.

Complaints must be submitted to the office within six (6) months of the alleged violation. If you did not discover the violation on the day it happened, the six months' limitation period begins on the date of the discovery of the alleged violation.

A copy of your complaint will be shared with the institution unless you specifically request that we do not share it.
How Complaints are Handled
The Office of Higher Education takes the following steps when you file a written complaint about a private college or career school:
First, we will review the complaint to determine whether the problem could indicate lack of compliance with standards in Degree-Granting Institutional Registration or Private Career School Licensure (depending on which statute applies to the institution). We may contact you for more information. We may also seek verification of the complaint from independent sources who may have witnessed events or have other documentation.

If Degree-Granting Institutional Registration or Private Career School Licensure requirements and standards are not related to the complaint, we will let you know in writing and no further action will be taken.

If Minnesota statutes or rules under our jurisdiction are related to the complaint, we will prepare a letter to the institution outlining the nature of the allegations and provide the institution with a copy of the complaint. The letter will request a written response regarding the specific situation in the complaint.

Once we receive the institution's response, we may request more information from the institution or from you. We may conduct additional investigation, including an on-campus review.

If violations appear to have occurred, the Office of Higher Education will inform the institution and request appropriate action to bring the institution into compliance. Action to revoke name approval, degree approval, or school licensure may be taken.

If the complaint does not appear to indicate a violation of legal requirements, we will inform you in writing with a copy to the institution unless you have remained anonymous.

The Family Educational Right to Privacy Act (FERPA) generally limits what can be disclosed from complaint files and under the Minnesota Government Data Practices Act, the Office of Higher Education cannot disclose unsubstantiated complaints to other parties.