Home > Outreach > Grant Programs For Educators > Intervention for College Attendance Grants
Intervention for College Attendance Grants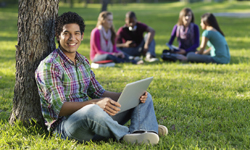 PLEASE NOTE: No new proposals are being accepted. The 2011 Minnesota legislature made $621,000 available to support continuation of services from Intervention for College Attendance Program (ICAP) grants awarded for the 2010-2011 biennium. These continuation grants will provide enhanced data collection to measure ICAP outcomes and document services that promote postsecondary readiness and/or retention.
The Office of Higher Education administers the Intervention for College Attendance Grant Program to foster postsecondary attendance and retention by providing outreach services to historically underserved students in grades six through 12 and historically underrepresented college students. Funded projects must focus on increasing the high school graduation, college participation and college success rates of students served by grant recipients.
The grant recipients for the 2012-2013 biennium are:
Seeds of Change AAMI AVID: Concordia University's and St. Paul Central High School's Arts Literacy and College Preparation Partnership for African American Males
An ACT/SAT Course for At-Risk Students, University of Minnesota
AchieveMpls Career and College Initiative ACT Preparation
Enter University (EU), Minnesota State University, Mankato
DREAM Project Daring to Realize Excellence and Academic Motivation, The College of St. Scholastica
Maadaadizi (Start a Journey) Program, Saint Paul Public Schools
Girls Getting Ahead Leadership (GGAL) Program, Women's Initiative for Self Empowerment (WISE), Inc.
Learning Connections Developing College-Ready Writing (Coordinated with Girls Getting Ahead in Leadership, Academic Component), Learning Disabilities Association, Inc.
Promoting Academic Success for Underrepresented Students, St. Cloud State University
Intensive ACT College Prep Program, Dakota County Technical College
Admission Possible Twin Cities Expansion at Como Park High School in St. Paul
Breakthrough Saint Paul, Mounds Park Academy
From the Ground Up: An ICAP Collaborative for Fostering Postsecondary Science Majors, Carleton College
Project Scholar, Carver-Scott Educational Cooperative
Tackling Obstacles and Raising College Hopes (TORCH), Northfield Public Schools
Transitioning & Retaining Underserved Students Through the Power of You, Saint Paul College
Upward Bound/ICAP, Lake Superior College
Bemidji State University Upward Bound/Intervention for College Attendance Project
Project ELY, Ely Community Resource, Inc.
Intervention for College Attendance Program: 2009-2010 Report [103 pgs; release date: January 18, 2011]
Intervention for College Attendance Program: 2007-2008 Report [74 pgs; release date: January 28, 2009]
More Information: