Role of Libraries Is Still Valid and Growing
Libraries play an ever important and expanding role in the lives of Minnesota citizens. Minnesota's rare and unique collaboration of all types of libraries -- county, K-12 school, state, academic and special libraries -- reach every corner and community in the state. Here are some highlights of the public library resources available to Minnesotans.
Minnesota's Minitex program is a publicly supported network of academic, public, state government, and special libraries working cooperatively to improve library service for users in Minnesota, North Dakota and South Dakota and reciprocity with Wisconsin libraries.
The Minitex program is funded by the Minnesota Legislature as a joint program of the Minnesota Office of Higher Education and the University of Minnesota. Minitex's Fiscal Year 2017 state appropriation was $5.9 million and over 942,000 items were shipped for libraries in the region last year.
While Minitex has been in operation for over 48 years the programs it helps support are expanding.
Learn More About Minnesota's Shared Library Services
University of Minnesota Libraries wins National Award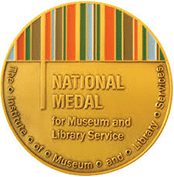 The University of Minnesota Libraries was one of ten national recipients of the 2017 National Medal for Museum and Library Service. This award is the nation's highest honor given to museums and libraries for service to the community awarded by The Institute of Museum and Library Services. Selected institutions demonstrate extraordinary and innovative approaches to public service, exceeding the expected levels of community outreach.
In receiving the award Minnesota University Libraries was honored thusly:
The University Libraries -- just the third academic library to win the award in 23 years -- is a trailblazing service provider and problem solver for a diverse and extraordinary number of communities. The Libraries develops and supports traditional and innovative services, collections, and partnerships engaging the University's faculty, staff, and students in the pursuit of knowledge. As the state's only research library, it reaches well beyond campus borders to develop and deliver high-demand services and programs to all 5.5 million Minnesota residents. Its archives and special collections serve several distinct, off-campus communities. And, with a foremost goal of equitable and open access, the Libraries shares its rich resources with a global audience.
Minnesota has a lot to be proud of in its various array of library services and contributions to its citizens.
Download this free 2018 calendar promoting Minnesota's library services. Or order calendar and other promotional materials from MNLINK.