"Free College" in Minnesota
The idea of tuition free college has gained popularity among some politicians and state leaders over the past few years. The rising tuition and debt of graduates has been a driving force in these discussions. Minnesota Office of Higher Education staff prepared a brief discussing free college pros, cons, and alternatives Minnesota could adopt to lower tuition costs for students and families. The brief is summarized below.
What is "free college"?
Most of what is discussed today as "free college" are last dollar scholarship programs covering tuition and mandatory fees for undergraduates after all other grants or scholarships have been applied. Examples of last dollar "free college" plans include the Tennessee Promise, the Oregon Promise, Minnesota's MnSCU Occupational Grant, as well as New York's recently adopted first-in-the-nation Excelsior Scholarship. Although each "free college" program is unique, plans typically include some combination of the following characteristics:
State residency requirement
FAFSA completion requirement
Family income limitation
Eligibility limited to recent high school graduates
Limitations by institution type, e.g. public, 2-year
Grade point average minimum while receiving funding
Minimum enrollment level & degree-seeking status
Maximum number of semesters or years during which a student can receive funding
Additional support services or mentoring for students
What costs are covered?
Although language around these programs suggest that they make college "free" for undergraduates, typically these programs, in combination with other aid, cover less than half of the costs students and their families face when pursuing their postsecondary education. These "free college" programs cover student tuition, but do not address the non-tuition costs of attending college, such as books, transportation, and living expenses. These non-tuition expenses are not inconsequential, as they can often equal or exceed tuition.
How much would "free college" cost in Minnesota?
If Minnesota were to enact a "free college" program for resident undergraduates enrolled at public institutions with family incomes under $125,000 inclusive of all enrollment levels, $264.7 million in state funding would be needed per year, in addition to maintaining current levels of Minnesota State Grants and federal Pell Grants.
Projected Annual Additional Cost, $264.7M, of "Free College" for Family Income <$125k in Minnesota, by Sector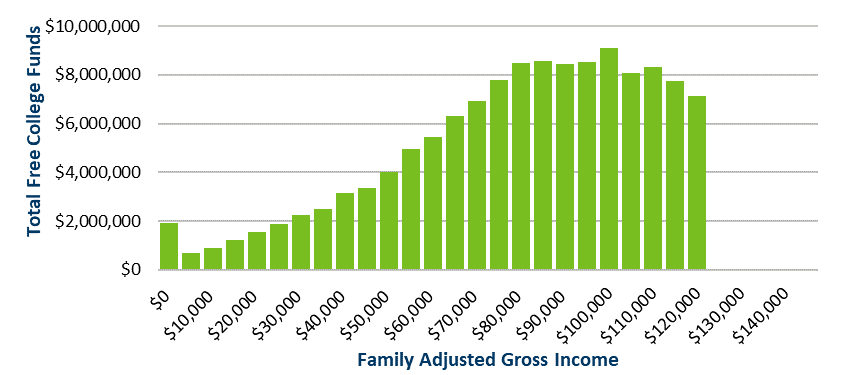 By comparison, the Minnesota State Grant program received an annual appropriation of $182.3 million in Fiscal Year 2016-2017.
Unintended consequences of "Free College"
Many proponents also see "free college" as a way for lower-middle income families to afford undergraduate education. However, "free college" programs may result in unintended consequences for states enacting them.
First, the program may change enrollment patterns and destabilize higher education systems.
Second, these programs require sustained state financial investments.
Third, a "free college" program would change the focus of Minnesota's current financial aid policies from targeted financial subsidies for students from lower-income families to broad subsidies for students from middle- and upper-middle-income families.
---
The Minnesota State Grant program ensures that limited state funds are targeted efficiently and effectively towards economically disadvantaged Minnesota students to meet state goals. But by doing so, it cannot ensure "free college" for all students without fundamentally altering Minnesota's commitment to the Design for Shared Responsibility.
However, an additional investment in the Minnesota State Grant would maintain and expand Minnesota's commitment to ensuring college access and affordability for low- and middle-income students who are in most need of the support.
---
Does Minnesota already have free tuition and fees?
The Office of Higher Education analyzed data on tuition and fees, Pell Grants, and Minnesota State Grants for Minnesota resident undergraduates enrolled at a public institution who applied for aid in the 2015-2016 academic year.
Yes, for the lowest income students
Of the 118,000 undergraduates enrolled at Minnesota public institutions, approximately 38,000 dependent students (32 percent) received a combined federal Pell Grant and Minnesota State Grant that was equal to or greater than (100 percent) the average tuition and fees charged. This group included students enrolled at Minnesota State Colleges with income levels less than $35,000 ($40,000 if enrolled full time) and those enrolled at Minnesota State Universities with incomes less than $25,000 ($30,000 if enrolled full time).
Percent of Minnesota Dependent Students by Income
Receiving Pell + State Grants Covering 100 Percent of Tuition & Fees, FY 2018 Estimates

Source: Minnesota Office of Higher Education, State Grant Applicant Database. Analyses by staff.
Alternative investment in need based aid
Building on Minnesota's shared responsibility model, the brief explains how an alternative higher education investment could be made to the Minnesota State Grant program which would:
Enhance access to postsecondary education for underserved populations
Maintain affordability of postsecondary education for lower- and middle-income students
Reduce the need for targeted populations to take out student loans.
Reports