"Free College" in Minnesota
The idea of tuition free college has gained popularity among some politicians and state leaders over the past few years. The rising tuition and debt of graduates has been a driving force in these discussions. Minnesota Office of Higher Education staff prepared a brief discussing free college pros, cons, and alternatives Minnesota could adopt to lower tuition costs for students and families. The brief is summarized below.
What is free college?
Free college programs are generally last dollar scholarship programs that cover tuition for undergraduates after all other grants or scholarships have been applied. Examples of free college programs include the Tennessee Promise, the Hawaii College Promise, and the New York Excelsior Scholarship. Although aspects of each free college program may vary, plans typically include some combination of the following program components:
FAFSA completion requirement
Family income limit
Eligibility limited to recent high school graduates
Limits by institution type (e.g. public 2-year colleges only)
Full-time enrollment
Community service requirements
Mentoring for students
Students sign pledges in middle or high school
Grade point average minimum to receiving funding
Maximum number of semesters or years during which a student can receive funding
State residency requirement
Must work in state after leaving college
Although program language suggests that college is free for undergraduates, often these programs cover less than half of the costs to students and their families. Free college programs cover tuition, but may not cover fees, and typically do not cover other non-tuition costs such as books, transportation, and living expenses.

Free college: Key considerations
Free college programs target funds to middle income students, not the lowest-income students.
Total Free College Funds by Family, Eligibility Limited to Families with Income <$125,000 and Students Attending Public Institutions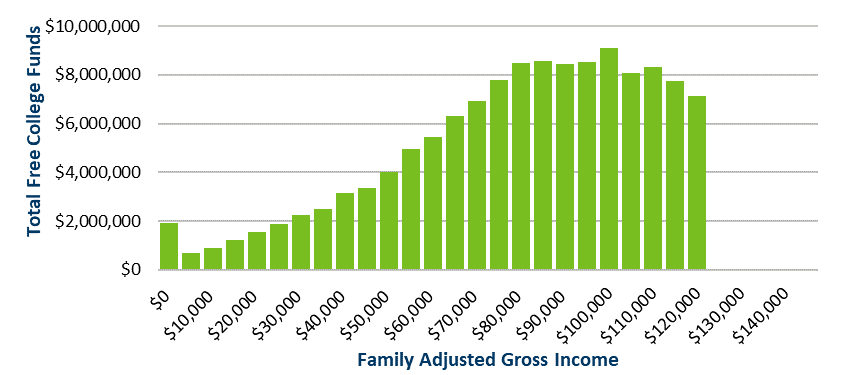 Free college programs targeting students only at one type of institution may impact enrollments in other sectors.
Free college programs require sustained state financial investments.
Boosting student success hinges on more than just increased financial aid.
Does Minnesota already have free tuition and fees?
The Office of Higher Education analyzed data on tuition and fees, Pell Grants, and Minnesota State Grants for Minnesota resident undergraduates enrolled at a public institution who applied for aid in the 2017-2018 academic year and projected results forward to the 2019-2020 academic year. 
Yes, for the lowest income students
Of the 137,000 undergraduates enrolled at Minnesota public institutions, approximately 38,000 students (28%) received combined federal Pell Grant and Minnesota State Grant aid that was equal to or greater than the average tuition and fees charged. 
Dependent students whose Pell and State Grant awards met or exceeded 100% of tuition and fees included those with incomes $0-$45,000 at Minnesota State Colleges and incomes $0-$30,000 at Minnesota State Universities as shown in Figure 8.
Independent students with children whose Pell and State Grants exceeded 100% of tuition and fees at Minnesota State Colleges included those with incomes $0-$60,000 and at Minnesota State Universities included those with incomes $0-$45,000, as shown in Figure 9.
Independent students without children whose Pell and State Grants exceeded 100% of tuition and fees at Minnesota State Colleges included those with incomes $0-$30,000 and at Minnesota State Universities included those with incomes $0-$10,000, as shown in Figure 10.
The lowest-income students receive grants in excess of tuition and fees to offset cost of living expenses.
Minnesota Dependent Students Percent Receiving Pell + State Grants Covering 100 Percent of Tuition & Fees by Income, FY 2020 Estimates

How much would free college cost in Minnesota?
The cost of any free college program depends on the overall design of the program. Overall, the fewer students eligible, the lower the cost of the program. Programs that have less restrictive eligibility requirements and/or cover a wider range of college costs tend to be more expensive.
For the purposes of this analysis, three versions of free college programs with different eligibility requirements were chosen to illustrate the costs of a potential free college program in Minnesota. The three examples range from highly restricted eligibility and application processes to more broadly defined/accessible programs. The programs modeled here capture the primary aspects of the original program, while incorporating elements that would allow the program to better fit the higher education needs of Minnesotans. The three examples chosen for this analysis are: Hawaii Promise (less restrictive), New Yorks Excelsior Scholarship (moderately restrictive), and Tennessee Promise (more restrictive).
Read more about examples of free college program options, costs, and other information about financial aid in the full brief.