Home > Paying for College > Financial Aid You Earn > Minnesota Teacher Shortage Loan Repayment Program
Minnesota Teacher Shortage Loan Repayment Program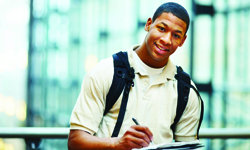 If you are going to apply for this program, you will be asked if you have read this page before you can apply.
The Minnesota Teacher Shortage Student Loan Repayment Program was established to provide student loan repayment assistance to teachers providing classroom instruction in a teacher shortage area in Minnesota. The purpose of the program is to encourage teachers to teach in Minnesota in designated shortage areas. Shortage areas include teacher licensure fields in high demand statewide, geographical regions within the state experiencing teacher shortages and teacher licensure fields in high demand within regions of the state.
If your 2016-2017 application was selected for review by submitting additional documentation, you will be notified via email by the end of February 2017 about whether or not you will receive a grant to repay loan(s).
Who is Eligible to Apply?
In general, applicants must currently:
Hold a teaching license issued by the licensing division in the Minnesota Department of Education on behalf of the Board of Teaching
Be employed by a school district to provide classroom instruction
Teach in a designated teacher shortage area; and
Have outstanding qualified educational loan debt
What's the Application Process?
Applicants must apply annually. The NEW 2017 application will be available in April 2017.
You can complete an online application here.
Paper applications are available by request.
Applicants who meet the general eligibility requirements are notified if they are selected for application review. Those applicants must provide additional documentation to verify the information on the application.
If you were notified in Summer of 2016 that your 2016-2017 application was selected for review, please fax or mail the forms below along with the required documentation to the Office of Higher Education.
What's the Selection Process?
The Office of Higher Education adopted administrative rules addressing the criteria for how participant awards will be prioritized. If there are insufficient funds available to award all eligible applicants, applications are prioritized based on the following:
Financial need of an applicant, considering the applicant's income, household size, and total qualified educational loan debt; and
Previous awards to the applicant from the teacher shortage loan repayment program; and
Employment location and licensure field in which applicant is currently providing classroom instruction.
Teacher Shortage Student Loan Repayment rules
How much money can you get?
Annual awards are up to $1,000 in loan repayment assistance paid directly to selected applicants. Awardees are limited to $5,000 in total repayment assistance.
View Frequently Asked Questions (FAQ) about this program.
Related Reports
Please Note:
More Information